I just had a panel done. Just holes cut out, no wiring. Already had switches.
$110. Before shipping. I used the epanel builder.
Not really in love with it. Itíll make a good template for me to fab one out of teak. Using Forstner bits and my scroll saw.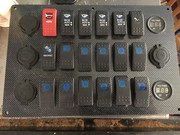 3/16Ē thick plastic.